To access your order status:
1) Go to https://globalfy.com/fulfillment/
2) Click on "Orders" → "Manager Orders"
3) Locate the order on the screen, search for its number or customer name in "Search", or use the filters in the left column
4) Click on the Order Number to see the information.
In the right column called "Details" you will have the field called "Fulfillment Status" with the following options:
- Default: order not yet shipped
- Canceled: order canceled
- Fulfilled: order shipped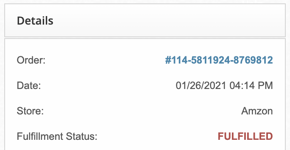 If the order has the "Default" status and you don't want to ship it yet, you can use the tool Operator Hold on the end of the screen.
Also, there will be the option: READY TO SHIP:
If Yes, it means that the order is correct and will be sent soon.
If it is NO, it means that there is some pending issue and you need to correct some information. To find out what's wrong, just click on (why).