Inside the Order in the right column there is a box labeled "Holds" at the bottom of the page. There are different types of "Hold", but the most common is "Operator Hold".
The Operator Hold tag means that the order must be paused and not sent at that time.
You can use this tool when you don't want to send the order for some reason, whether it's lack of payment, address correction and other reasons.
Once you check this option and save, our team will not be able to ship your order.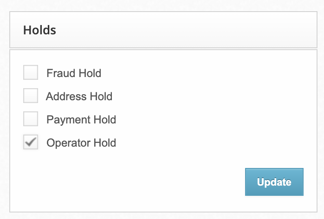 Removing the Hold from the Order
From the moment you want us to send the order, just return to this screen, uncheck the "Operator Hold" box, and click "Update" again. From this moment on, your order will be placed in the shipping queue.